Nadine took to Instagram to finally introduce us to her daughter, Anaíya*.
This was immediately after a little Easter message on Twitter. Diney obviously has a sense of occasion. The announcement sent the Diva/Ninja community into overdrive, and it didn't take long for her and her lovely baby to be trending on in the UK.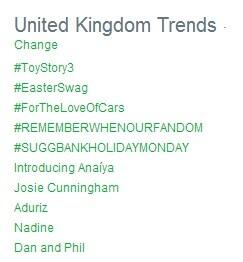 It's been so long since we heard from Nadine that we were going mad. Now we know what to call the little pink bundle, and it's a lovely name. We knew Nadine would give her a real name and not follow ridiculous celebrity fashion.
So hello Anaíya*, one day you'll be able to read this. We're your mum's biggest fans and we'd do anything for her. It's lovely to meet you.
*Don't forget the accent on the i. After all, it's Nadine's baby, so there had to be an accent…

Time for some twitter updates on Diney's baby adventure. Make sure you check out her twitter to see them all, these are just the highlights.
First we saw Nadine worrying about the baby's safety with the recent earthquakes in California.
I love living in CA but these earthquakes scare me. My baby is only weeks old & has already been in 2. Buying full survival kits today. xx

— Nadine Coyle (@NadineCoyleNow) March 29, 2014
I threw myself over her. She wasn't too impressed. I was always paranoid, with a baby, I am a freak! I may need professional help. Xx

— Nadine Coyle (@NadineCoyleNow) March 29, 2014
No Nadz, I don't think you're a freak at all. Plus we'd all like you do throw yourselves over us at any opportunity.

Yesterday was Nadine's first mothers' day as a mammy, and just look at the sweetness in these tweets:
I haven't left her side since she was born. I tried to go out one day & broke my heart crying in the driveway. Maybe tomorrow…… Xx

— Nadine Coyle (@NadineCoyleNow) March 30, 2014
I really do love you all too! I have to wake her up to get her ready for bed. We have a "bedtime routine". Loads of love till next time Xx

— Nadine Coyle (@NadineCoyleNow) March 30, 2014
Nadine's fully wrapped up in her little bundle of joy, and we still haven't even heard her name. I'm certain of someone who has though.

On Wednesday I attended Sarah Harding's solo showcase, with Alouder friend Nicci. We each spoke to Saz, who told Nicci the following:
She told me she skyped Nadine the other night and that her baby is beautiful!

— Nicci Jane⚡️ (@NicciLuvsNadine) March 26, 2014
Though that isn't surprising because:
She looks exactly like me. Haha. Xx RT @laurenxcooper: @NadineCoyleNow Who does your little girl look like? Does she look like you?

— Nadine Coyle (@NadineCoyleNow) March 30, 2014
It's been great to get a few more updates this week. Hopefully there'll be more soon.

She's alive!
Nadine's been off Twitter for so long we've been really missing her. But she came online today to check in with us.
Hi everybody how is it all going? Xx

— Nadine Coyle (@NadineCoyleNow) March 18, 2014
This baby daughter in understandably a big deal.
I have to introduce you to my daughter soon. She is the best thing ever. Way better than sliced bread! Xx

— Nadine Coyle (@NadineCoyleNow) March 18, 2014
We can't wait, Nadine. We can't wait.
POSTED BY Keith UNDER

Baby

WITH

1 comment
Sarah Harding's been talking about the recent GA pregnancies. In a recent comments, seen here in this Bang Showbiz, NZCity article, Sarah tells how Nadine's doing with her little pink bundle.
"I haven't met her baby yet, but she's getting on very well, surprisingly! She's really laidback, and so is the baby – she sleeps through the night. She must have had a chilled-out pregnancy to have such a chilled-out baby!"
We're not getting much news from Nadine herself. She's understandably busy with the baby, who apparently shall remain nameless. It appears a lot of her time is spent just admiring her daughter*.
I have to get back to staring at my little pink bundle (my life since she was born) Loads of love to you!

— Nadine Coyle (@NadineCoyleNow) February 25, 2014
Diney's doing a great job of keeping out of the public eye at the moment, probably made easier in the US where nobody's really heard of her. It's understandable as any new parent would feel that way. Don't expect too much career related news just yet.
*Still feels weird typing that.
POSTED BY Keith UNDER

News

WITH

1 comment
No, I'm not talking about that tweet from Nadine.

Our headmic & school uniform days! RT @NCoyleFan: I'll end with another #Sardine #TeamTuesday pic.twitter.com/eUk5e8kIEb

— Nadine Coyle (@NadineCoyleNow) August 13, 2013
The Belfast Telegraph ran this story the other day, featuring one of Nadine's old class photos.
You should have no trouble spotting cute little Nadine there in the front row.
Massive thanks to Sam for linking us to the story.

Brace your fangirl hearts, she's here! In case you've been living under a rock or something, last night saw Nadine announce via her twitter that her baby has been born.

I am overjoyed to let you know our little girl is here. She is amazing! I love being a mammy & will fill you all in soon. Love Nadine Xx

— Nadine Coyle (@NadineCoyleNow) February 10, 2014
If you're looking for a place to send your congratulations, click on this big pink button. It will take you to the Congratulations Nadine page that we've been linking to on our twitter.
92 of you have already left your messages there, and we expect Nadine to read them so go and add yours if you haven't already. Speaking of congratulations, the rest of Girls Aloud all tweeted their messages too:

First was Cheryl:
It is OFFICIAL!! There is a baby Aloud!!!!!! Congratulations @nadinecoylenow & Jason so amazing!!!

— Cheryl Cole (@CherylCole) February 10, 2014
Then Kimberley:
@NadineCoyleNow congratulations to you both!!! So happy she is here safe and sound. Can't believe you're a mummy

— Kimberley Walsh (@KimberleyJWalsh) February 10, 2014
Then Nicola:
There is a little baby Aloud! Congratulations @NadineCoyleNow & Jason on your little baby Girl. I'm so happy she's here and healthy <3 xo

— Nicola Roberts (@NicolaRoberts) February 10, 2014
Somewhat predictably, Sarah "Half-hour" Harding was a bit late the party:
And on a happier note, I can now officially say"congratulations!!!"to @NadineCoyleNow on the arrival of her gorgeous little baby girl aloud!

— Sarah Harding (@SarahNHarding) February 11, 2014
All that's left is to repeat our own congratulations from us, Hayley and Keith, and add a little message to Baby Aloud, even though we don't know your name yet. Welcome to the World! It's a big place. It's full of happiness, mystery and excitement. As you explore it you'll learn, you'll laugh and you'll cry. We wish you a long and successful life, filled with wonder, adventure and discovery. Most of all, know that there will always be people out there who will love you to the stars and back, and you have the most wonderful mammy in the world.

Oh Diney! Isn't it incredible how your baby is almost here? It's forced you to do this:
Also this is my first day to wear.. Wait for it……… Maternity trousers. maternity trousers, you read it right! Xx

— Nadine Coyle (@NadineCoyleNow) January 20, 2014
Oh yes, these are no ordinary trousers. Very very nice! I have a date with a daddy to be later. Thank you mamas & papas.. Xx

— Nadine Coyle (@NadineCoyleNow) January 20, 2014
Yes, believe it or not, Nadine Coyle is wearing trousers! Things must be getting serious over there. No word on whether the shoes are flat though. Nadz is probably the only woman in the world who'd be more stable in 6 inch high heels while pregnant.
Yesterday Nadine came on twitter and instagram to share her latest news from the pregnancy. She showed us that her house in London is now filling with baby related products.
She also shared her latest cooking adventure with some mini cupcake-fittatas.
They look extremely nice. I hope they were tasty. Who knows what cravings Nadine is going through? Baby day is almost here, and we're anticipating good news any time soon. Make sure you're paying attention to us at nadinecoylefan.com
POSTED BY Keith UNDER

Twitter

WITH

0 comment
Nadine was on twitter last night to see how we're all doing.
Hello ladies & gents. How is it all going with you? Xx Long time no speak.

— Nadine Coyle (@NadineCoyleNow) January 8, 2014
It was a tweet to the wrong Keith that revealed plenty of juicy information:
@keith_caulfield When the stork arrives I will record again. My baby doesn't need me to inflict too much sass & rage on her just yet. Xx

— Nadine Coyle (@NadineCoyleNow) January 8, 2014
The good news is that Nadine will be recording again, once Baby Aloud is here. Diney has also unwittingly released a new phrase on us, and I'm already hashtagging #SassAndRage. Sometimes I wonder if Nadine realises how hilarious she is (see below).
Said sass and rage is her reason for not recording right now, though I'd imagine that having a person living inside you can get in the way a bit when you're trying to record a hit album. Looking after your first daughter is a pretty valid reason for making us wait for new tunes, but it's great to have some hope for the future.
Lets do it!!! & face "did you tell him" RT @DylCampbell: @NadineCoyleNow let's perform Sexy! No No No together!?

— Nadine Coyle (@NadineCoyleNow) January 8, 2014
Nadz hasn't forgotten her GA moves and words though, so I guess we can expect junior renditions of all the Girls' hits pretty soon.